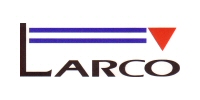 As a supplier to the Oil and Chemical industry for more than 50 years, Larco manufactures and markets a complete range of products for liquid storage tanks.

Over the years Larco has been a renowned partner of the petrochemical industry. It is building its reputation through its sharp knowledge of the liquid storage and handling industry, its patended products, as well as its comprehensive design and engineering department.

Product range includes:
• COVERFLOTE?, Internal floating roof
• Floating roof seals
• Floating roof hose drains
• Oil-on-water detectors
• Additive injection skids

The technical solutions proposed by Larco are based on a continuous and trusted relationship between the customers, subcontractors and our team of highly experienced engineers and technicians.