Our bevel gear operators provide mechanical advantage for multi-turn actuation applications.

The Limitorque B320 series of bevel gear operators deliver efficient and dependable operation for multi-turn applications. Suitable for manually operated valves and gates or motorized operation with Limitorque MX, L120, and SMB series electric actuators, the B320 series provides versatility to meet any required operating condition.

For manually operated valves and gates the B320 operators can be driven by handwheels, chainwheels, or wrench nuts. An optional spur gear attachment is available to further reduce the required input torque or rim pull effort.

With five product sizes covering torque ranges to 8,000 ft.lbs. and 325,000 lbs. thrust, there is a B320 product suited to virtually any multi-turn application.

All B320 series operators are manufactured from the highest quality materials for maximum reliability. All gears are machined from high-strength alloy steel, ensuring smooth operation with minimum backlash.
Input and output bevel gears—as well as the bevel pinion itself—are supported on anti-friction roller bearings. Every B320 unit is permanently lubricated and fully waterproof to endure the harshest outdoor service. B320 series operators are suitable for weatherproof (NEMA 4) or temporary submergence service (NEMA 6, IP 67/68). All units are easily converted for motorized applications.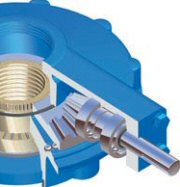 Features:
• Rugged cast iron gear housings
• Ball bearing supported bevel pinion and bevel gears
• Removable, bronze alloy stem nut for mating to the valve stem
• Adaptable to Limitorque electric actuators