The CNC 380 range of High Flow Direct Acting Pressure and Vacuum Relief Valves (PV Valves) or Breather Valves are special types of relief valves. These are specifically designed for the protection of storage tanks during normal venting and Emergency relief conditions - and to conserve tank vapours.

The 380 Series of Opti-Flow P&V Relief (or Tank Breather) Valves offer an extensive range of venting options for atmospheric storage tanks:

• Pressure from 0.9" WG to 30" WG, open or closed venting
• Vacuum from 0.9" WG to 10" WG, open or closed venting
• Sizes: 2", 3", 4", 6", 8", 10" and 12"
• Material: Aluminium, cast iron, carbon steel, stainless steel
• O-ring or metal-to-metal seating
• Internals and trim materials to suit stored product and environment

Principle of Operation:
380 Series Valves provide venting by the use of a pallet and diaphragm. The weight of the pallet pushes the diaphragm against the valve seat to keep the vent closed. When tank pressure or vacuum is increased the diaphragm lifts, and gas is allowed to flow. The pallet is weighted to obtain the correct setting.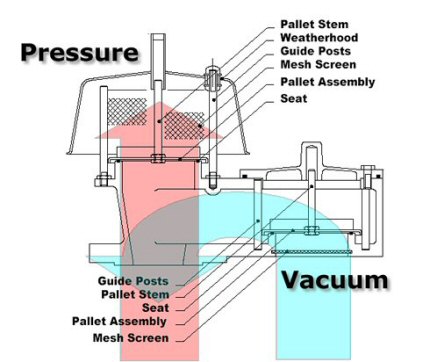 The pressure at which the pallet begins to lift is known as the set pressure. The pressure at which the valve is fully venting is called the relieving pressure. The difference between the set and relieving pressures, expressed as a percentage of the set pressure, is known as the overpressure.
In addition Opti-Flow technology provides high flow valves in smaller sizes with the associated costs savings being passed to the Customer.
Valve Configurations:
• CNC 380: Pressure Relief to Atmosphere / Vacuum Relief from Atmosphere
• CNC 381: Pressure Relief to Atmosphere
• CNC 382: Vacuum Relief from Atmosphere
• CNC 383: Vacuum Relief from Atmosphere / Pressure Relief to Closed Line
• CNC 384: Pressure Relief to Closed Line
• CNC 385: Pressure Relief to Atmosphere / Vacuum Relief from Closed Line
• CNC 386: Pressure Relief to Closed Line / Vacuum Relief from Closed Line
• CNC 387: Vacuum Relief from Closed Line