Strainers are installed in pipe lines ahead of meters, pumps, valves, etc., to protect such equipment against intrusion of pipe scale, welding spatter and other foreign material. The use of the proper size strainer together with a basket of suitable mesh pays dividends in reduced maintenance on mechanisms which are in contact with flowing liquids.

When it is known that comparatively large amounts of lint or iron oxide are present in a stream, a large strainer should be used as these materials clog up basket screens rapidlyespecially if resins, gums or varnishes are also present.

Larger size foreign matter such as pebbles, welding beads, etc., should be removed at frequent intervals to prevent their abrasive action from damaging the basket screen.

Strainers are available in sizes from 1 1/2" to 24" for maximum working pressures to 1480 psi (10,197 kPa). There is a Strainer of the proper size and pressure rating to accommodate the full line of IndMac P.D. Flow Meters.

Design Features
• Easy access, in-line application
• Easy maintenance
• Provides maximum protection against intrusion of foreign material
• Vents and Differentials available
• Cover lifting lug standard on larger sizes

Materials of Construction
• Housing: Cast Iron / Cast Steel / Drawn Steel / Steel
• Basket: Steel basket, 1/8" perforation standard
• Screens: 304 SS mesh

Pressure Ratings
Flange Ratings at 100°F (38°C)
• 150 lb. ANSI 285 psi (1964 kPa); 16 Bars/PN16, 19.6 Bars/PN25
• 300 lb. ANSI 740 psi (5099 kPa); 25 Bars/PN25, 40 Bars/PN40, 51 Bars/PN64
• 600 lb. ANSI 1480 psi (10,197 kPa); 64 Bars/PN64, 100 Bars/PN100

Strainer Baskets
To be efficient, strainer baskets must be kept clean. A buildup of sediment increases pressure drop and decreases flow. If a basket is allowed to become completely clogged, damage will result. Pressure gauges on each side of the strainer (or a differential pressure gauge) give an indication of basket condition at a glance.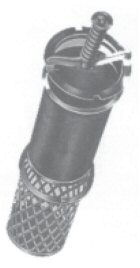 A regular procedure should be set up for cleaning strainer baskets - the frequency depending on amount and character of foreign material in the stream. It is advisable to keep a spare basket (or inner screen) on hand.
Recommended screen mesh will vary according to the products being monitored and the condition of the pipeline. In most applications gasoline and similar products will use a 60 mesh screen. Diesel, number 2 oil, and similar products will use a 40 mesh screen. Liquids such as heating oils will require a 20 mesh screen.