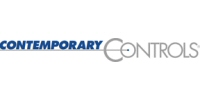 Contemporary Controls? is recognized for its industrial networking products in the technologies of Industrial Ethernet, Controller Area Network (CAN) including DeviceNet and ARCNET?. Product range includes repeating hubs, switching hubs, routers, media converters and interface modules which are designed for industrial applications at affordable prices.

Industrial Ethernet Our own Industrial Ethernet technology, CTRLink?, will help you improve the performance of your networks with switching hubs solely designed for building automation or industrial automation systems. New fiber optic switching hubs and media converters extend distances beyond the standard 2 km limit. Our managed switch products offer the most features as well as the most information on the status of the network.

ARCNET? We are unequaled in ARCNET. Our equipment includes network adapters supporting ISA, PC/104, PCI and PC Card buses; the ARCNET Network Analyzer, the ARCNET Evaluation System, and Active ARCNET Hubs and Repeaters from 2 ports to 48 ports supporting twisted-pair, coaxial and fiber optic cable connections.

CAN/DeviceNet CANopen Engine, DeviceNet Engine, DeviceNet Evaluation System, CAN Network adapters supporting ISA, PCI and PC Card buses.